Date Published: 28/02/2014
President Valcárcel says Paramount theme park is feasible rather than impossible
ARCHIVED ARTICLE
The president says that while steps forward will continue to be taken, some will be faster and others will be slower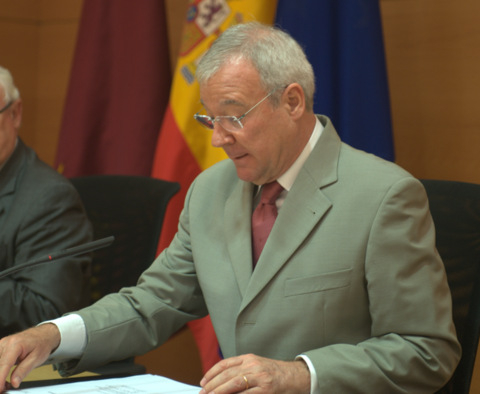 Ramón Luís Valcárcel, the president of the regional government in Murcia, still believes that the Paramount theme park Project in Alhama de Murcia is a viable proposition, despite the fact that after four years construction work has not yet begun and no investors are known to have provided funds for it to start.

Sr Valcárcel asserted on Thursday that the project is "feasible" rather than "impossible", and that although it is ambitious, every effort is being made to ensure that the task of securing the support of investors has to be made. While admitting that the project has "had its ups and downs", the regional president also feels that the support given by Paramount itself shows that the park is a viable proposition. Whether this "support" has been translated into actual funding is not 100% clear.

In the not so distant past Sr Valcárcel has declared in public that the park will open its doors to the public in 2015, but during Thursday's interview he was unwilling to either confirm or deny this date. Instead he limited himself to saying that while steps forward will continue to be taken, some will be faster and others will be slower.

External observers, however, could be forgiven for a little scepticism that it is feasible to build the park from scratch and have it open for next summer when work hasn´t even begun. Local businesses however, remain united in hoping that St Samper manages to find the money and get the park built, providing a huge boost for all of us struggling to earn a living in the region at the moment.

The continued delays to construction have not stopped one unscrupulous estate agent sending out emails which give the impression that the park is already open! One local agent has sent out a mailshot this week offering 110% finance deals on properties in Condado de Alhama, which is apparently located "opposite the popular Paramount theme park". ( Thanks to "disgusted of Mazarrón" who forwarded it to us and put it out on Facebook ).

Should readers receive one of these emails, they are advised to treat it with the respect it deserves and Murcia today will continue to do everything in its power to advise those who wish to carry out internet searches that the project is still in a preliminary phase, thus hoping to avoid the same situation as those who put money into the Trampolin Hills project now find themselves.

Apologies to those who are marketing properties in the area and including the responsible word "proposed" in their sales literature: it only takes one bad egg to ruin an omlette for everybody else.

Click for full Paramount Park archive.
Contact Murcia Today: Editorial 966 260 896 / Office 968 018 268