Date Published: 17/12/2013
Pedro Cruz says 90% of Paramount Park attractions will be world firsts
ARCHIVED ARTICLE
Paramount licensing themselves are reported to have injected capital into the project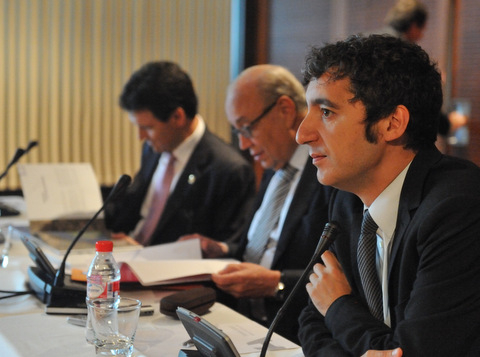 Today the regional minister for culture and tourism, Pedro Alberto Cruz, has been participating in a conference entitled, El futuro de los Parques Temáticos en Europa , which translates as "The future of themed parks in Europe" an event organised by the economic circle of the Region of Murcia, a topic which has, of course, raised the age old question of what's happening with relation to our own planned themed park in the region, the Paramount Park.

Sr Cruz was quick to enthuse about the "enchantments" of the projected park, a park which will boast" 90% of its attractions immersing the visitor in 3D and 4D worlds which are worldwide firsts. "
He also revealed that the Paramount Park and Lifestyle Center will be present at the Fitur tourism fair in Madrid in the early part of next year and that work on the park will begin at the same time.

He was keen to assert that theme parks are viable, dismissing the "misconceptions which circulate" about their rentability, "there are misconceptions about theme parks which must be rectified, "he said, "their rentability in Spain has increased by 1.8% when the remainder of leisure parks ( aquatic and zoos) have decreased."

All of which is very well, but the burning question everyone wants a straight answer to is whether there's any financing for the Murcia Paramount Park in place yet.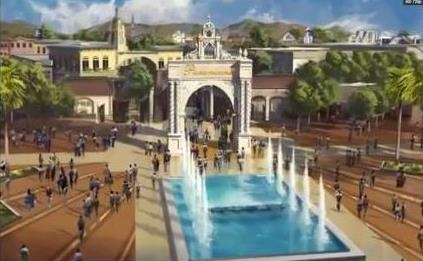 La Expansión ran a piece about the subject last week , reporting that Paramount itself had decided to become a shareholder in the park, injecting 10 million euros in order to assume a 10% minority share of the project. Originally the film industry giant had declined being a financial investor in the project, limiting its participation to granting a 30 year license to operate the park, but after nearly four years of seeking financing Paramount has itself entered the fray, using its not inconsiderable muscle and contacts to help find the missing money. This had been reported some time ago, but is being highlighted now as the drive continues to achieve the missing financing.

The project originally began following a meeting at the Fitur tourism fair in February 2010 and after Pedro Cruz and President Valcárcel travelled to Dubai to discuss the project further, was picked up by Santa Mónica Financial Services who formed the company Premursa in collaboration with the regional government to develop the project. After a search for the ideal spot, land was purchased in the Alhama de Murcia municipality and a fledgling project has clawed its way through a paperwork mountain to emerge as a completed project after 4 years, lacking only a few final rubber stamps. Preliminary clearance work has been undertaken on the site in preparation for work to begin on access roads and supporting infrastructure and contractors selected for the first phases.

Jesús Samper has maintained from the onset that "there is interest from American funds, Europeans, Asians and the Emirate States" and for this reason the contracts have been adjudicated to enable works to commence in January. Alhama de Murcia council is completing the final details to enable full building licences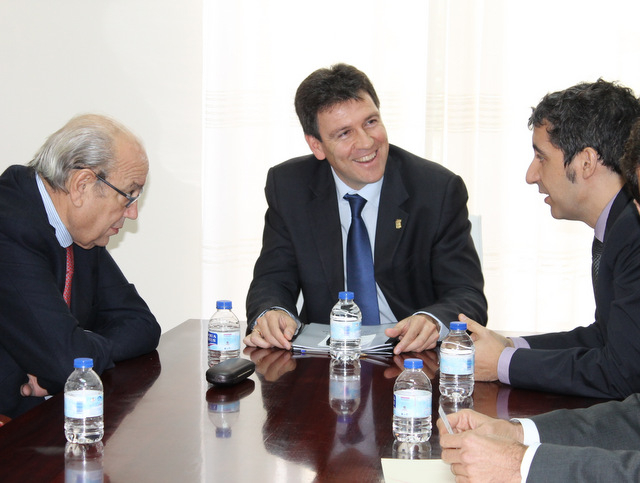 to be issued and according to La Expansion the only element missing is the financing. Sr Samper is quoted as saying, "We´re looking for 100 million capital, 150 million in financing and we´ll generate 120 million through our own resources through the sale and development of these parcels. " According to the piece, Sr Samper also intends to sell on the theme park in 7 years time ( he already has a pre-agreement with United Parks) and quotes 32% rentability, so to help find the correct partners to bring the project to fruition the EY consultancy in America has been contracted to help make these final missing links.

The recent collapse of negotiations to make the Eurovegas complex in Madris a reality have provoked debate as to whether the construction of more themed parks is viable, but Sr Samper is keen to distance himself from comparisons with Eurovegas, "This was based on a tourist industry that already exists:Madrid. Paramount is pioneering and the only project with guarantees in place to start the works tomorrow."

Local estate agents have been enthusiastically highlighting the adjudication of contracts and the projected start times on their web pages, one or two going into advertising overdrive online in anticipation of the increased interest in property locally ahead of the start of construction.
The latest estimate is for the park to open in Spring 2016.Many fingers are crossed that it does.


Click for full historical archive of Paramount Park Alhama de Murcia articles
Contact Murcia Today: Editorial 966 260 896 / Office 968 018 268