Date Published: 24/04/2015
Paramount theme park project hopes to survive Santa Mónica bankruptcy
ARCHIVED ARTICLE
The regional government of Murcia distances itself from the Alhama de Murcia project
Following the revelation earlier this week that Santa Mónica Sports, the group to which Paramount theme park promoter Premursa belongs, has entered forced administration, it has now been announced that the Instituto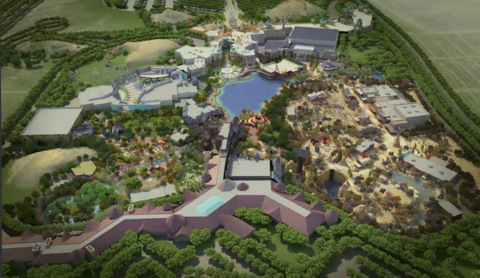 de Fomento of the Region of Murcia is to seek clarifications regarding how the theme park project in Alhama de Murcia might be affected.
Since Premursa was founded the regional government's interest in it has been reduced, and its initial investment of 200,000 euros now represents only 0.54% of the shares, but nonetheless the department of Industry, Tourism, Business and Innovation has already made it clear that efforts will be made to ensure that public interests are protected. Distancing themselves from the collapse of Santa Mónica, government sources are insisting that this is a private company and has nothing to do with the public administration.
This was the line taken on Wednesday by regional president Alberto Garre, who reiterated that Santa Mónica is a private company. However, the Paramount theme park was one of the grand projects encouraged by his predecessor Ramón Luis Valcárcel, who was unstinting in his efforts to ensure that Alhama was the site chosen by Paramount.
Although Premursa, the company appointed to develop and promote the Paramount theme park in Alhama de Murcia, pointed out on their website on Wednesday that the company which has gone into forced administration, Santa Mónica Sports, is not a direct shareholder in the Paramount venture, it has to be remembered that one of its subsidiaries, Santa Mónica Financial Services, is the majority shareholder in the company.
The Paramount venture could yet escape any negative effects resulting from the problems of Santa Mónica if investment in the theme park is secured, although time is running out if the extended completion deadline of autumn 2016 is to stand any chance of being met.
However, on a sporting front, it seems that the initiation of proceedings to pay creditors could represent another nail in the coffin of Real Murcia football club, which is desperately trying to re-negotiate debts with Hacienda and other creditors in an attempt to avoid being wound down. Jesús Samper is the president of both Real Murcia and the Santa Mónica group, and in the past has injected cash from Santa Mónica Sports into the club to enable it to survive, but this option has effectively been closed off to him by the developments of the last couple of days.
Archive history of the Paramount theme park project in Alhama de Murcia
Contact Murcia Today: Editorial 966 260 896 / Office 968 018 268