Mazarrón outdoor and indoor markets

Saturday and Sunday are market days in Mazarrón and Puerto de Mazarrón
Shopping is always enjoyable at one of the many outdoor and indoor markets across the Region of Murcia, which are traditionally the main source of fresh produce for towns and villages. In general prices are competitive in comparison with supermarkets, particularly if vendors are competing for trade!
There are lots of very Spanish goodies on offer at these markets, including plant plugs, a bewildering variety of olives, spit roast chickens and hot fried doughnut sticks and chocolate (churros y chocolate).
A couple of words of caution to visitors, especially in the outdoor markets: it's advisable to buy fruit only from vendors showing prices, watch it being weighed and check the price charged. Ask for a receipt ("ticket") and if unsure ask for a bag to select your own, as the locals do. These precautions avoid "holiday maker tax" and the disappointment of being palmed off with all the bruised apples!
It's also highly recommended to keep wallets in front pockets, particularly during the busy summer markets, and to invest in a shopping trolley, for reasons which anyone who has lugged a large watermelon around in 35-degree heat will readily appreciate!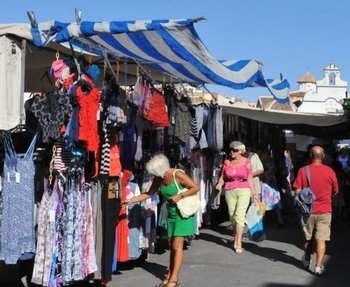 The Mazarrón market takes place on Saturday mornings between 8.00 and 14.00 in the Plaza del Convento, in front of the Parroquía de la Purísima, the attractive white church which dominates the square. This is open on a Saturday morning, so have a look inside if you go to the market!
It's a fairly big market with around 80 stalls and is popular with expats, many of whom head for a coffee afterwards in one of the bars which surround the Plaza.
The Puerto de Mazarrón market which is held on Sunday mornings is a much bigger event, with around 300 vendors. It's located in the Urbanización Bahía next to the municipal tennis and padel tennis courts, and is again open from 8.00 to 14.00. In theory there is plenty of parking, but in the summer it is normally necessary to leave the car a fair distance away, particularly after around 10.00 as long queues form on the main road down into the town.
Indoor Markets Mazarrón and Puerto de Mazarrón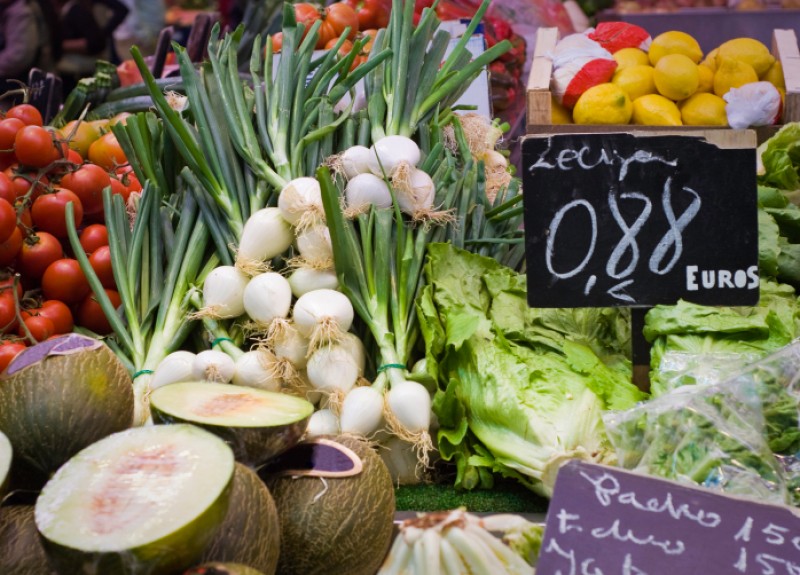 The Plaza de Abastos in Puerto de Mazarrón is in Avenida Doctor Meca - click for map - and was built in the early 1990s. It has 30-odd stalls, and sells a good variety of fresh produce and other items.
There is parking alongside and in surrounding streets, and the market opens every day except Sundays from 8.00 to 14.00. In summer evening trading takes place between 18.00 and 20.00.
In Mazarrón itself, meanwhile, the indoor market is located alongside the main street of the town, Avenida de la Constitución, and opened in 2010. It sports a gaudi-esque tiled front and was the source of a great deal of fighting and argument between the townspeople and the administration of Francisco Blaya Blaya, the Mayor who decided to knock down the historic marketplace in the Plaza del Convento and relocate it in this new building, an extremely unpopular decision with traders which contributed to his downfall in the 2011 local elections.
The traders were forced to move, but have now vacated the building and opened new shops around the outside of the market square where the weekly open-air market is located. The building is currently closed as a market, but is used for other events from time to time.
Click here for more weekly markets in south-west Murcia, or go to the Mazarrón section of Murcia Today for more local information.
Contact Murcia Today: Editorial 966 260 896 / Office 968 018 268