José María Párraga mural in Alhama de Murcia

Work by one of the best-known Murcia artists of the 20th century
José María Párraga Luna (May 20th 1937-13th April 1997)
José María Parraga was born in the Cartagena district of Alumbres and moved to Alquerias close to Murcia at the age of ten. His parents were teachers, a profession which he himself followed, although he abandoned this course to pursue his art.
At the age of 17 he began to draw whilst convalescing from a serious illness, then went on to study art in Murcia. His first exhibition was in 1956 at what was then the Casa de Cultura and is now the Archaeological Museum, then went on to obtain a good degree of success in competitions to design the promotional posters for the fiestas of Semana Santa and the Fiestas de Primavera, which drew a lot of attention to his work in the local press.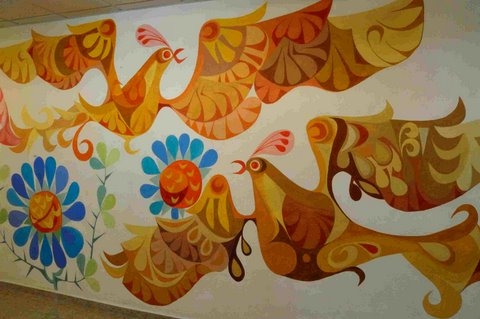 This gave him the opportunity to study further in Madrid, where he came in contact with other artists such as Manolo Valdés, now famed worldwide for his sculptural busts, and enjoyed success, winning prizes as a young painter and gaining work as an illustrator.
His early paintings were very much figurative works, although they feature a characteristic deformity and tendency to stretch the figure, a characteristic of movements within the international art world at this time. In 1964 he was a founder member of the Aunar group, along with painters Manuel Avellaneda, Aurelio Pérez Martínez and sculptors Elisa Seiquer, Francisco Toledo Sánchez, José Toledo Sánchez and José Hernández Cano.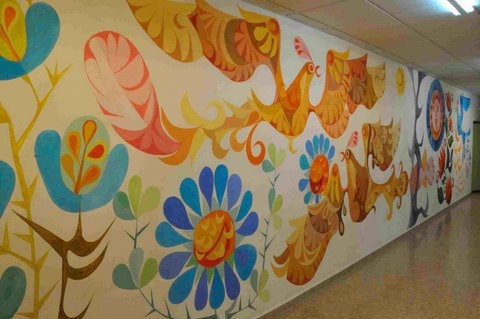 His output was prolific and from 1959 he began to experiment with collage, experimenting with expression, form and materials and heavily influenced by Picasso and Klee. In this way he developed a unique identity, and by 1968 was constantly portraying deformation, contortion and monstruous figures.
In 1980 he underwent an emotional crisis, tinting his work with pessimism and tortured introversial imagery, his strokes fragmented and broken instead of the smooth, sensuous strokes he had formerly employed.
By the 90s he had again settled down into a more relaxed style of work, again employing curvaceous and bold strokes, defining the work with a stronger element of colour. This coincided with a period in life during which his two children, José María and Roxana, were born.
His name is found throughout the Region of Murcia, with roads named in his honour as well as the Centro Parraga, a centre dedicated to the emerging arts in Murcia.
The vibrant and exuberant images accompanying this piece are to be found in a mural in a school in Alhama de Murcia, and art enthusiasts can obtain special permission to see the mural if they are interested: contact the Alhama de Murcia tourist office on 968 633512.
For more local information in English relating to the Alhama de Murcia municipality including news and forthcoming events, go to Alhama Today.
Contact Murcia Today: Editorial 966 260 896 / Office 968 018 268