Introduction to Bolnuevo property
What type of property can I expect to find in Bolnuevo?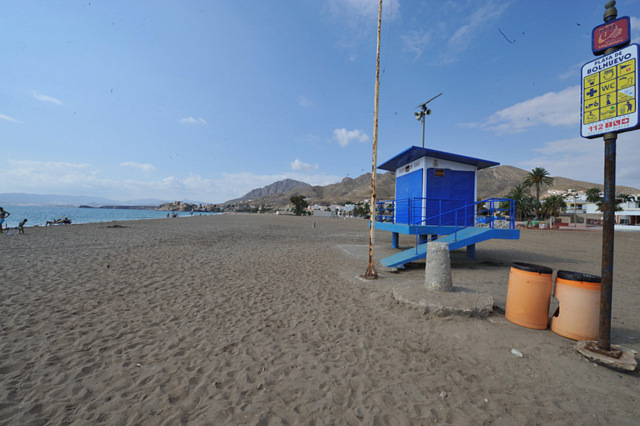 Searching for property along the Costa Cálida coastline is an interesting task, with many different types of property available to potential buyers.
There is very little coastal property available in the Murcia region which has sea views and also offers accommodation in villas, as many of the coastal properties are in apartment blocks, but Bolnuevo is one of the few areas where coastal views can be enjoyed from an elevated position, and from substantial residential properties.
Bolnuevo is located at the western end of the Bay of Mazarrón, and its wide south-facing main beach has always ensured that it is popular with visitors and holiday homeowners alike. Although the village has existed for centuries almost all of the buildings currently housing residents and tourists are of recent construction, both along the seafront and up the mountainside where most properties enjoy spectacular views.
Rather like La Azohía at the other end of the bay, Bolnuevo has managed to retain a relatively prestigious reputation compared to the Puerto de Mazarrón itself, and there are certainly a number of top-end properties among the chalets on the market. These mainly lie on the lower slopes of the mountain, turning right from the only access road as you enter the village and heading uphill.
Some of these villas are priced at well over half a million euros, although of course they would have been worth a lot more before the property bubble collapsed, while other more modest villas with their own pools can be found for between two and three hundred thousand euros. Small two-bed villas can be priced at as little as 150,000 euros.
At the other end of the scale there are some apartment blocks where the less ambitious budget can be adequately catered for, with apartments starting at around 80,000 euros. Ideal for those looking for a quiet beach location, these could be a perfect bolt-hole except in the peak season of July and August, when of course the beach lures numerous holiday-makers, both Spanish and foreign, to the area.
There are also apartment blocks with communal swimming pools for those seeking a holiday property in a secure and managed environment.
Bolnuevo is often viewed as being a slightly more prestigious location in which to buy than the Puerto de Mazarrón port itself or the nearby residential urbanisations of the Mazarrón municipality and is a lot quieter, particularly out of season.It tends to attract those who would like the convenience of having full access to good facilities and the benefits of an English speaking community, but also wish to maintain their independence and not live in a defined residential urbanisation.
The substantial villas on the mountainside make it attractive to those seeking a permanent residential location in a quality area, and there are a good number of expats amongst the property owners in Bolnuevo. Bolnuevo is attractive for expats because it maintains the air of a Spanish resort, has sufficient facilities to service residents throughout the year, and is close to a sizeable ex-pat population in the remainder of the Mazarrón municipality.
Mazarrón has the highest percentage of expats in any of the 45 municipalities, or administrative districts, which form the Region of Murcia. Most of these are based in the Camposol Urbanisation, which is around a 15 minute drive from Bolnuevo, or in the Mazarrón Country Club, meaning that there are lots of clubs, societies and support organisations offering a good social life and English speaking support network for those buying a property in the Costa Cálida.
There are also plenty of trades and services able to service the needs of property owners in English.
Bolnuevo itself has a couple of small supermarkets, a chemist's, and numerous bars and restaurants. Some of these are Spanish, including various beach-front establishments which open far more in summer than in the winter, but there are also numerous venues for a more British style of wining and dining.
The Puerto de Mazarrón is a ten minute drive from Bolnuevo, along the coast with a much wider offering of shops, supermarkets and facilities, as is Mazarrón town itself, which also has a good selection of shops and services. Both have regular weekly markets.
Major shopping centres such as Cartagena and Murcia City are a 45 minute drive from Bolnuevo.
Bolnuevo sits in the centre of a wide expanse of beaches and has a magnificent selection of beaches for visitors to choose from. It is one of the few places where bars look directly out over the beach and is renowned as being a superb place in which to enjoy a cocktail as the sun sets.
There is a long run of wild and nudist beaches close to Bolnuevo, as well as a vast sandy beach which runs right along the seafront of the village.
Bolnuevo also has a large campsite with residential and temporary pitches.
This variety makes Bolnuevo an attractive area for property buyers in terms of both small apartments and luxury villas, and the easy access from the motorway means that airport runs are relatively simple 45-minute affairs.
All in all, this former fishing village is an attractive destination not only for visitors seeking holiday properties, but also for prospective residents hoping to buy a residential property, combining the attractions of a small beach village with the easy access and international options of far larger resorts.
Click for map: Bolnuevo Mazarrón
Click to see a wide range of properties available within the Mazarrón municipality: Murcia property page
Click for more information about the following local areas: Mazarrón municipality, the Camposol Urbanisation, the Mazarrón Country Club, the Puerto de Mazarrón
rc-widget-3369fe article_detail.in
article_detail
Contact Murcia Today: Editorial 966 260 896 / Office 968 018 268