Centro Cultural V Centenario, Alhama de Murcia

The Casa Amarilla exhibition venue in Plaza de las Américas
At the beginning of the 20th century Alhama was undergoing a period of economic boom, due to the presence of the spas and hotel. Wealthy families built country homes in what is now the main urban area of Alhama, and what is commonly known as the "Casa Amarilla" (yellow house) belonged to the Saavedra-Vélez family, an extremely powerful and influential family from Murcia who enjoyed the warm springs of the spa and the idyllic existence of their "country home" among the orchards of the area. The area surrounding the house would have formed part of the original formal garden construction which surrounded this residence.
Nowadays the building is used for exhibitions and cultural events, and is officially known as the Centro Cultural V Centenario.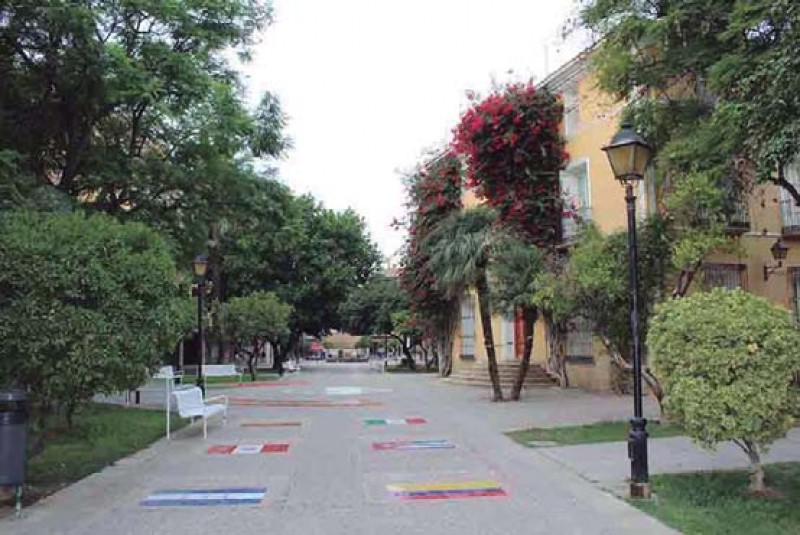 In front of the house the park and square known as Plaza de las Americas, due to the large map of the Americas which is built into the floor: Spain had many colonies in South America, which generated a great deal of wealth for the Spanish families involved in business and trade between these continents, and clearly the Saavedras had much to be thankful for!
The Plaza de las Américas is one of the stopping-off points of the FREE ENGLISH language audiotour offered by the municipal tourist office (also provides street maps, leaflets etc) which can be followed by visitors at their leisure. Click for full information
For more local information about the Alhama de Murcia municipality in English, including news and forthcoming events, visit the home page of Alhama Today.
Contact Murcia Today: Editorial 966 260 896 / Office 968 018 268