Date Published: 21/01/2021
ARCHIVED

- Covid hospitalisations just under 1,000: Region of Murcia Thursday 21st

13 deaths and 1,724 new cases in the last 24 hours
Although by now the daily covid figures are "just numbers" to many of the population and only become real when the "70 patients hospitalised" includes somebody known to us personally who has disappeared into the back of an ambulance, the steady rise in covid cases continues to justify the confinements and closures of businesses which affect us on a daily basis, remaining way above the levels considered to be safe for the general public.

Within the last 24 hours a further 1,724 positive PCR tests have been recorded, bringing the total number of active cases in the region up to 18,449, another record high.

There have now been 85,377 positives since the pandemic first began.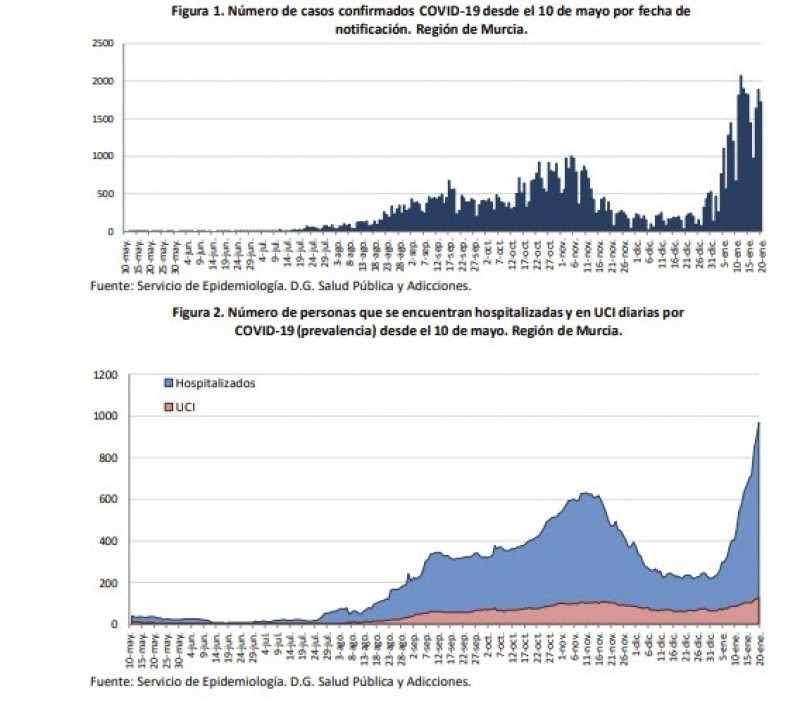 Of the 1,724 new cases, 636 correspond to the municipality of Murcia, 211 to Cartagena, 93 to Lorca, 89 to Yecla, 66 to Molina de Segura, 49 to Cieza, 44 to Caravaca de la Cruz, 44 to Jumilla, 41 to Torre Pacheco, 36 to Alcantarilla, 31 to Totana, 26 to Mula, 23 to Archena, 22 to Abarán, 21 to San Javier, 21 to Las Torres de Cotillas, 19 to Fortuna, 19 to Mazarrón, 19 to San Pedro del Pinatar, 18 to Ceutí, 18 to La Unión, 17 to Alhama de Murcia, 15 to Campos del Río, 14 to Águilas, 14 to Fuente Álamo, 13 to Cehegín, 12 to Bullas, 12 to Santomera, 11 to Moratalla, 9 to Los Alcázares , 9 to Blanca, 8 to Alguazas, 8 to Beniel and 7 to Calasparra, the remainder spread around the region in smaller quantities.

Fatalities:
13 deaths have been reported directly as a result of Covid-19 during the last 24 hours, five females and eight males, aged 82, 86, 64, 82, 76, 78, 72, 82, 87, 73, 88, 80 and 85, 4 from Murcia, 3 from Cartagena, 3 from Jumilla one from each of Blanca, Torres de Cotillas and Yecla, bringing the total fatalities to date to 868.
Hospitalisations: 70 patients have been admitted to hospital with more severe cases of Covid-18, bringing the total of patients currently receiving treatment to 970, of which 130 are in intensive care.
This is above the total number of ICU beds available in the whole of the region, so post-surgical beds have now been turned over for the use of covid patients and other wards have been opened specifically to cater for intensive care patients.
In the last 24 hours the positivity rate of the PCR tests was 14.5%, which is around half of one percent lower than over the last few days, but the level of contagions is now so high in some areas of the region, that it is difficult to generalise.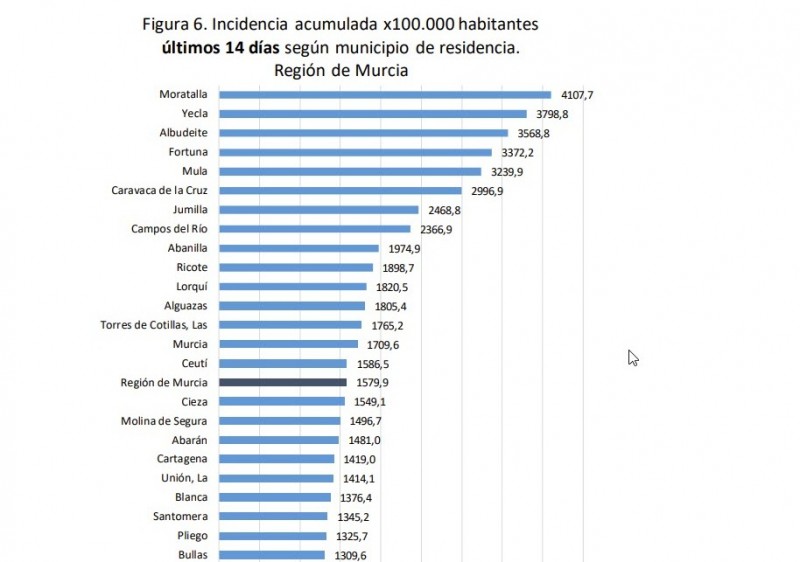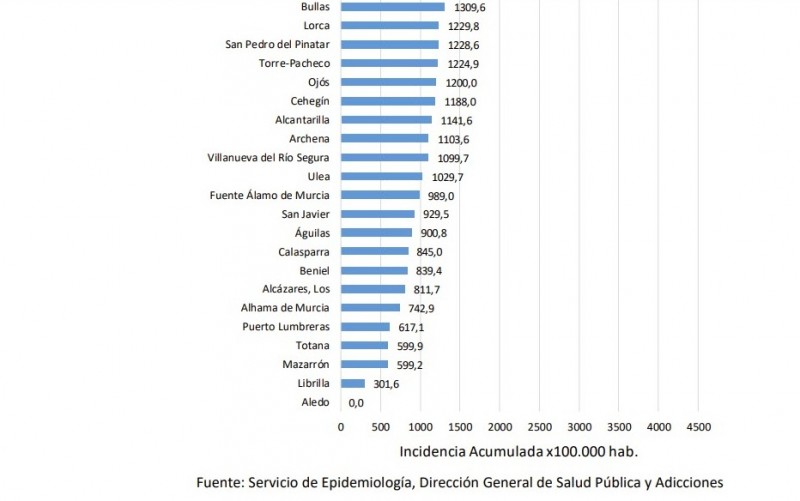 The AI rate, which calculates the percentage of cases based on the head of population in a given area, continues to climb, and as of yesterday, Murcia remained the second highest region in all of Spain for the number of cases per head of population.
The rate for the whole of the region over the last 14 days is now 1,579 per 100,000 inhabitants, headed up by Moratalla with 4,107 cases per 100,000, Yecla 3,798, Albudeite 3,568, Fortuna 3,372, Mula 3,239, Caravaca 2,996 and even the lowest on the list are Librilla 301 and then Mazarrón and Totana at 599.

Data at a glance:
New positive cases reported in the last 24 hours: 1,724
Confirmed cases since the beginning of the outbreak; 85,377
Total number of active cases: 18,449
Patients in home isolation with mild symptoms: 17,479
Total number of hospitalisations: 970 (+70)
Total number in ICU intensive care units : 130 (+8)
Total cured: 66,060
Total deaths: 868 (+13)
Testing: total of 726,463 PCR and antigen tests and 88,369 serological tests to date
Positivity rate of tests today: 14.5%
article_detail
Thank you for supporting Murcia Today
article_detail
.
Contact Murcia Today: Editorial 966 260 896 / Office 968 018 268